Birthstone opal jewelry for October beautiful custom design.
Birthstone opal jewelry handmade from specialist Graham has best prices for unique Birthstone opal jewelry, and the best quality opals ever discovered direct from Goldsmith Master Artisan that did not major in British English, but you will not find more honest affordable custom jeweler,please excuse the graphic web designer also because the guy's from India.
Birthstone opal jewelry specialist has special offers for clients free of charge when purchasing 1 gemstone over $199. Graham's jewelers will custom make 1 goldsmith design jewelry free,to suit the gemstone purchased ,clients personal designs excepted include free insurance and postage to your home.
As this opal can have single color, two colors and multiple colors all the colors of all the gemstones in the one gemstone jewelry, your favorite color, your birthstone color is in Australian opals.
Gemstones like the October Birthstone opal jewelry can be worn all months of year.
Selling my birthstones around the world I have been studying jewelry designers from Europe, United States of America to Asia and the middle east, studied with some of the best designers in the world and have concentrated my effort on unique one of a kind opal jewelry including birthstone designs . Unique jewelry is my passion because they enhanced a woman's beauty especially when they are worn around the front of a ladies neck, the only word that can express this is sheer elegance,ear rings are my favorite Birthstone opal jewelry.
Birthstone opal jewelry October opal represented hope and love, gold and opal jewelry and all metals can be used in birthstone jewelry for the month of October .
Cate Blanchett wore lucky October birthstone earrings at the Oscars, everyone noticed Cate's jewelry as she collected her Oscar for best actress 2014.      Please do not hesitate to contact us if you are interested in similar opal birthstone custom-made to order and more information regarding top quality opals .
Handmade birthstone opal jewelry for people born in October.
Jan head coach of world champion Australian women's basketball team has an opal gemstone from Graham, and will remain Jan preferred lucky jewelry to wear with pride .   Jan the coach has carried and worn the October birthstone jewelry during all the major campaigns whilst coaching the Australian Basketball team, throughout the world Championships of 2002, the Athens Olympics of 2004, the 2006 World Championships and in Beijing Olympics .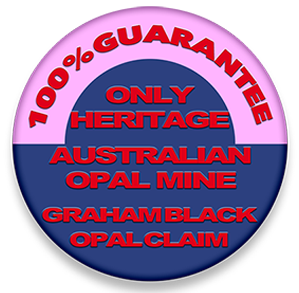 Lucky Australian opal stone at www.grahamblackopal.com America is known to have the best men and women's basketball team, the unbeatable's by a imperial mile but Jan Stirling beat the invincible American team in the World Cup and was also runner-up silver medal in the Olympics, the head coach lucky charm is from the mining township of lightning Ridge Australia and from the only heritage leased mine in the world .  This town is recognized as the capital of the black opal industry .
We have the only mine lease, listed on State Heritage Register List as an item of environmental heritage in LEP National Trust of Australia Register.Submission read "Opal More rarely, specimens contain precious opal" And these are surely among the most beautiful natural objects on earth. The opal is of the highest quality, characterized by red/black gems of superlative brilliance, in every conceivable pattern including harlequin, picture stones and Chinese writing.
Gemstones like the October Birthstone opal jewelry can be worn by all zodiac months of year, as opal can have all the colors of all the gemstones in the one jewelry with your favorite color.