Black opals gemstones from Australia.
Black opals gemstones and opal crystal Amazing Offer Sale for Customers, Custom made jewelry at the best prices here, Graham has better prices then you will fine any where for handmade opal jewelry, simply if you buy one of the black opals over $199. Graham will hand make free of charge one custom ring design jewelry free of charge. Buy a similar gemstone opal else where and see how much you have to spend to have the Goldsmith make your black opals a fabulous finished handmade ring? Most Goldsmith work in the USA European Union Japan Australia starts at $500 up to $900 for handmade jewelry designs.
The best prices here because you will not find a better offer any where, customers only pay for the materials Gold or Silver at standard International price. Customers can be involved in they own design ring with black opals or Crystal opal semi black. All catalogues black opal and jewelry and gemstones at Graham Black opal are all priced at wholesale.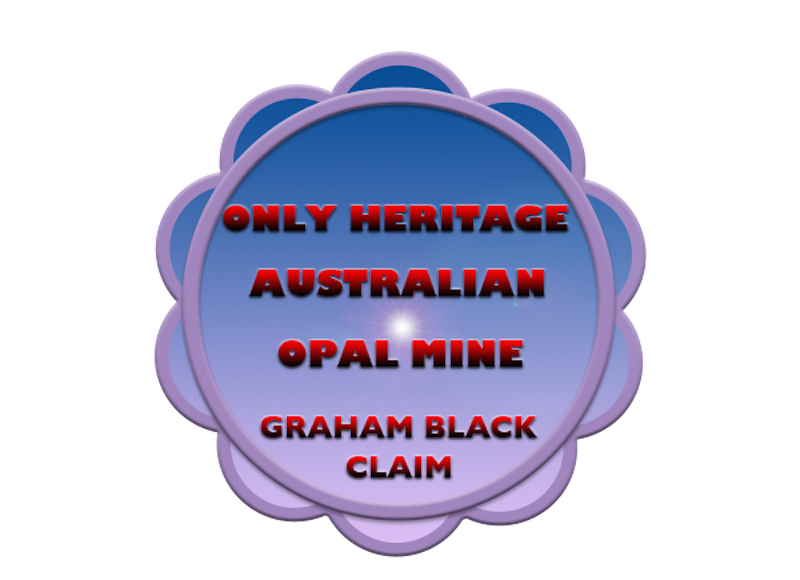 Black opal gemstones and jewelry stores at wholesale prices, you will not find more affordable custom goldsmith. Cut out all the middle people and go direct to the primary producer, Australian opal gemstone specialist in the Industry . Graham the only opal expert with Government official Heritage listed opal mine, because the stones are known as the best quality, listed as item of environmental heritage in LEP National Trust of Australia. Free honest certificate the only opal producer from the Capital of the black opal Industry in the Premier State the Capital Sydney Australia.
Black opals gemstones.
Geology Greek word regarding the study about earth science, organic minerals rocks soils composed processes by which they change. Insight into the history of our Earth, Geology important for mining and exploration that feeds and keeps our cities alive.
Black opal mining Geology very clean industry in Australia, environmentally friendly, because Australia a first world country regulated with high rehabilitation laws and standards. Organic no chemicals are used in processing of the clay or black opals mineral, just clean water is used to process the clay and rock and solids.
The water is pumped from deep under the ground from the largest artesian hot water springs, if they was no black opal Industry the place would be semi dessert hot, no wildlife and little farming because they would be on Town ship. Unfortunately in most of the undeveloped world water and air pollution comes from science academics,  The science of chemistry and many type of commercial mining activities in developing and third world countries, unfortunately have little regulations so these science are responsible for the change in our climates, for the good and the bad.
Black opals gemstones most famous Geology mineral deposits come from the country of Australia. Usually the most expensive objects in life are the most beautiful and best quality. Rings black opals are the most beautiful, these unique gemstones are only discovered in about 100 km radius around the town of Lightning Ridge in the state of New South Wales Australia. You cannot find true A quality black opals N1 deposit in any other location in the world.
True black opal N1 N2 deposits the most beautiful but A grade expensive opal, jewelers and gemologist say the best grade and most beautiful. But when it comes to buying jewelry its always in the eye of the beholder, as Crystal from this location and in the state of South Australia has much more affordable, and very beautiful Crystal opal and white opals.
 Black opals gemstones.
Lots of beautiful crystal and white opal from the most famous location for this particular type of gemstones,Coober Pedi in South Australia, along with locations named Mintabie and Andamooka .
Australia the state of Queensland a place called Koroit in the south west of the State has boulder opal, Winton in the northwest of the State and Jundah has deposit of boulder, the town named Quilpie in the central western region produces boulder opals deposits. Other countries that produce mostly common opal Ethiopia with some very good cabochon crystal but lacking in color intensity, this applies for most of these countries United States opal, Mexico fire opals. South America Guatemala, Nicaragua, Brazil, Peru, Honduras, Eastern Europe the Baltic Slovakia, Czech. Southeast Asia the country of Indonesia does have a very dark base gemstone, but the quality does not come anywhere near the Australian lightning Ridge black opals.All these countries have some sort of history regarding opal gemstone deposits, but still the most beautiful rings black opals only found in Australia.
All custom jewelers that work with black opal mineral have to out sourced stones from the famous location Lightning Ridge. Do not look any further Wholesale Black opals direct from the most famous mine direct from the primary producer, direct from the jeweler Goldsmith.