Custom opal jewelry.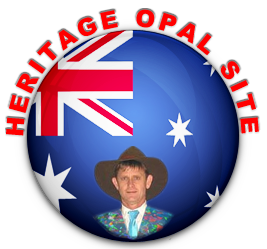 Custom opal jewelry 75% Savings about Off your own custom opal jewelry design and delivery and insurance free.  Custom crafted specialist opal jewellery is a lot cheaper at graham's place because graham is the primary opal producer, plus you have gone direct to the goldsmith graham handcrafts opal jewellery and designs and has open cut his own Australian opal mine which is famous. Also wholesale prices and the best Australian opals ever discovered, at graham's official government Heritage listed opal mine, Heritage listed because the gemstone quality is know internationally as the best deposit of opal gemstones ever discovered at 3 mile opal mines.
Custom opal jewelry and how to fix if some gemstones have scratches that are to deep and cannot be removed by polishing, time can do this type of damage after many years it is not ageing as these gemstones are tens of millions of years old, and have been underground exposed to long periods of drought and long periods of moisture water, some Australian palaeontologist date opals that are found in the state of NSW Australia over 100 million years old .
Custom opal jewelry more information at YouTube Channel. Damage occurs because after so many years every time the gemstone surface touches a hard surface, like your table and working in the garden or maybe house duties cleaning, this is simple wear and tear many things can cause this playing sport.
Custom opal jewelry.
Custom opal jewelry and all gemstones including diamonds ruby's can get many little very faint scratches that can only be seen easily under magnification glasses. But with the naked eye the stone colours only look dull or fate sort of unimpressive.
But the opal specialist can come to your saviour and turn your precious jewellery item looking like new again. As long as there is no big chips as this type of damage can never be returned back to new, but if the opal gemstone is big enough to have a professional re-cut and re-polish the stone, it will look as good as new and will be as good as new, but unfortunately one problem then the opal is usually smaller from the original ring setting and the smaller downsized opal will not fit will not lock in to the original ring jewelry, but the gemstone will be perfect again.
You will need quite a few professionals after the cutter has finished and the stone now looks very good but is smaller after cutting, great colours shine like new again and after you pay the guy for this job, the opal will be sent off to the goldsmith and have your old ring melted down and recycled, it's better to out source gemstone setter to have it removed and then you have the opal taken to the professional gem cutter that understands opals. After the ring is finish the goldsmith if he doesn't understand opals, he needs to send the new ring and opal off to the gemstone setter, this is a different trade to custom jewellery making. The gemstone setter will have the opal reset back into the new handmade ring again safely without any problems.
Custom opal jewelry.
Many professional skills are needed so do not damage your opal with common wear and tair damage over the years, but if you have to have your custom opal rings recut then do not just believe your local jewelry store or boutique, because most are just retail sales businesses and are not goldsmith's or setters or opal specialist, so do your home work first if you need to have your opal jewellery recut and bought back to life again. Many goldsmiths can cause trouble and be more expensive because they use some sort of welding on jewellery and join the gold and silver, you do not want a goldsmith to add any heat on opals when removing the stone. Many jewelrs and goldsmith do not understand all the different types of gemstones and can damage your opal because of lack of knowledge.
Now if you're cleaning silver jewelry with opals there are chemicals you can buy and place on the ring material silver ring ban only, avoid cleaning chemicals none should ever go on the gemstones. Get a cotton bud that you would normally used for cleaning the inner ear, patience is a virtue put the chemical on all the silver, and leave the opal pointing up so no chemical can run down and touched the opal, read the instructions on the bottle wait the time limit and then clean and you will see all the black tarnish colour will disappear from your beautiful silver jewelry.
Another quick method you can do anywhere is in your handbag get your lipstick and rub the lipstick all over the silver weight five minutes and clean the lipstick off with tissue, get another cleaner tissue and polished up the silver and your custom opal jewelry will look beautiful again .