Hand made opal ring Australian opals custom made opal rings jewelry design's.
Hand made opal ring best opals best price you will fine any where. Amazing Offer Sale for Customers simply if you choose one of the opals, over $199 we will make free of charge one handmade design for you free of charge. Graham supply certificate with all our handmade opal rings stating guarantee 100% solid Australian gemstones from the best mining location in the world. Guys don't miss out on this deal one free handmade jewelry custom ring design with no charge, if customers purchase one gemstone over $199 all information below on this article about custom jewelry special sale.
Hand made opal ring by Goldsmith old and experienced, our graphic web designer did not major in English but the goldsmith is a Master artisan, and this site has the best prices for unique opal jewelry.
Certificate will state jewelry is hand made opal ring from Graham Black the only Heritage mine Leased at the 3 mile location Lightning Ridge Australia recognized as the best discovery ever discovered internationally amongst the finest handcraft jewelers of the world. Guarantee stating money back in full no ? you only have to provide us with a recognized Lab gem and jewelry testing certificate stating otherwise, but as this can never be the case as we mine the gemstones ourselves and never purchase from middlemen, passing the savings on to our customers as you are purchasing direct from the mine at wholesale price, this is one reason why our gemstones go up in price quickly appreciating the investment.
Hand made opal ring on sale.
Sapphires are very limited in colors and patterns and customers do not have much of a range or choice. Jewelry is like fashion the customer must have the final say on what design colors shapes and patterns and budget and opals gives you the freedom, this particular gemstone you can have unlimited color choice when designing your next custom ring. Rubies which are very limited in colors and patterns so customers have very little choice, this applies to most commercial grade gemstones and A grade gemstones.
Jadeite similar but more choice in color range than rubies and sapphires, but unlike Australian gemstones which have unlimited patterns and so many colors, so when you decide on your next fashion statement, a beautiful handmade jewelry design from Graham Black heritage opals direct from the primary producer, the man who discovered the last deposit of the most beautiful, from the most famous location in the world Lightning Ridge 3 mile site. Graham also is a jeweler designer and you can cut out all the middle people saving you up to $1000 on custom-made jewelry.
Hand made opal ring on sale.
Hand made opal ring do not forget the gemstones come direct at wholesale prices saving you a lot of money up to 50% on the gemstones also, let's say if you bought commercial grade opals for $500 and if you had your Goldsmith make you the jewelry item, this would cost you around $1500, you would only pay $500 from Graham.
Hand made opal ring ccommercial grade jewelry manufactured with opals, the deposit would not be of high quality compared to multicolored black opals, so if you bought opal from Ethiopian suppliers and this is where most of the gemstone are coming from these days for $500, I could supply equivalent Australian gemstone for $250 or a much more superior multicolored black opal for the price of 500, where you could save another thousand dollars having our jewelers give you a quotation, will only make custom hand made opal ring no commercial jewelry.
Sale hand made opal ring.
Graham's Australian official government national symbol,"famous opal mine guarantee best deposit ever discovered. Submission for Heritage read","opal more rarely, specimens contain precious Australian opals" And these are surely among the most beautiful natural objects on earth. The Australian opal is of the highest quality, characterized by red/black gems of superlative brilliance. Graham's mine listed in the State of N.S.W Capital Sydney Australia. The Australian opal mine also list as an item of environmental heritage in LEP National Trust of Australia Register.
We fully guarantee do not worry you have 30 day return item, policy states the product purchase is not as described on arrival at your address, simply mail the item back to us if you had a genuine complaint, no ? asked money back guarantee.
Saving the customer about $900 on custom design rings jewelry in the USA America.
Hand made opal rings equivalent price in U S cities around the country, in LA or New York and most other country's, custom handcrafted rings will have to add about $900 onto final bill price.
Hand made opal ring certificate from Mr Black guaranteed 100% Australian opal authenticity outlining handmade jewelry stating 18 karat or 14 karat gold, authenticity outlining qualities solid Australian Lightning Ridge opal gemstone.
Solid gemstone 60 days return policy. 30 days return period covers fine custom jewelry workmanship guaranteed, 30 days return if you had a genuine complaint product purchase is not as described.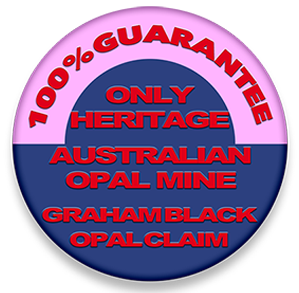 Out goldsmith jewelers will design and hand make jewelry to suit the gemstone purchased, clients input on the design more than welcome, we pay the postage and insurance free,clients only have to pay for the gold or silver needed for their design handmade opal ring.
On sale hand made opal ring.
A few sparkling clear diamond always add a little bit extra to the main gemstone in hand made opal ring design regardless incorporating rubies and sapphires or opals, and small diamonds up to 0.3 will not break the bank. Diamonds truly enhance plane gemstones that have single colors, so if you can afford a few to be incorporated in the jewelry design this is great, but if you truly want to wipe out your friends jewelry collection surround a small opal ring with 0.2 diamonds 0.3 diamonds a little bit more money for 0.3 diamonds but again not that expensive. And then you will have the ring that friends everybody will be talking about.
Also blue and green color opals are more affordable than green and orange color or blue and red color, and if you like multicolor's but cannot afford to purchase a ring, then I suggest with handmade opal ring surrounding the main blue green gemstone , add little pinkish ruby's very affordable a fabulous contrast and makes the design look very special giving the main gemstone a multicolor cosmopolitan look. I also understand that a lot of people have their own ideas than simply draw a sketch of what you would like and scan or take a photograph of the sketching and e-mail me. We will need to discuss your budget, and if you give me the go-ahead then simply leave the rest to me and your hand made opal ring will be completed within a week.